Scudo Passenger
Transport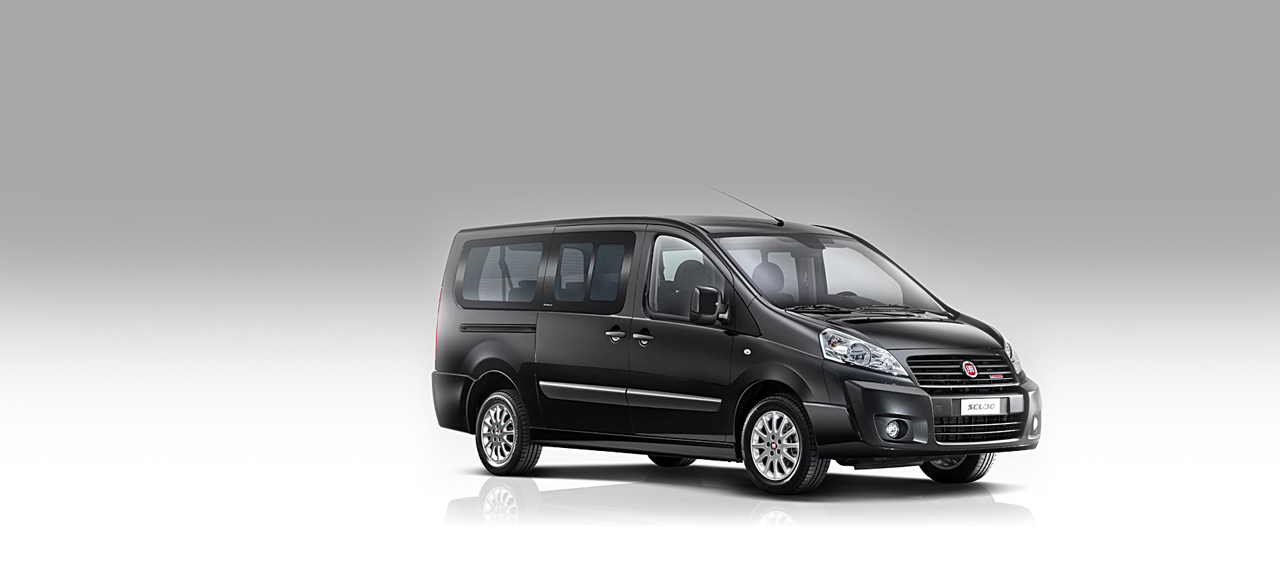 Scudo Passenger
Transport
COMFORT
For an enhanced on-board experience
THE DRIVER'S SEAT
The interior can be easily configured thanks to adjustable, foldable, stackable and removable seats
1st row: driver's seat + 2-seater bench
2nd row: 2-seater bench + single seat
3rd row: 3-seater bench (optional).
The visibility of a hatchback, the comfort of a saloon
Raised driving position and gear lever on the dashboard.
Steering wheel adjustable in both height and depth.
The ergonomic seat comes with longitudinal adjustment and backrest and height adjustment as standard – double armrest, lumbar support and heated driver and front passenger seats are all available on request.
The instruments are subdivided into 4 quadrants on a black background, and are easy to read at a glance.
The climate controls, radio and hazard warning lights are all easy to reach.
Multifunctional display with LCD screen for displaying information from the on-board computer, as well as the date, time, external temperature and radio functions (standard on the Panorama).
with electric windows with anti-pinch sensors
Scudo Executive Special:
Leather steering wheel and gear knob
automatic dual-zone climate control system
THE FRONT SEATS
Up to 3 comfortable seats
With height-adjustable upholstered headrests, and two configuration options:
Panorama Family: single seats for driver and passengers, longitudinal and backrest angle adjustment, with lumbar support and armrest as standard
Combi: driver's seat and 2-seater passenger
Solutions designed for your most precious cargo
For the passengers on the back rows, the Scudo Panorama offers as standard:
2-seater bench plus single seat on the 2nd row with individually adjustable backrests: the backrest of the centre seat is equipped with cupholders
double sliding side door
The 3rd row to match the 2nd, with 2-seater bench and single seat, is available on request.
Vehicles with a 3rd row have an easy entry seat in the 2nd row: using a handy lever, the seat can be folded down to allow access to the 3rd row.
Theatre-style seating available: the seats on the 2nd and 3rd rows are slightly raised (row 2 is 7 cm higher than the cab; row 3 is 3 cm higher than row 2), improving visibility for your passengers.
The seats of the second and third rows are fitted with upholstered headrests and 3-point seatbelts; the end seats are equipped with Isofix points for securing child seats.